We didn't want to do a boast post but here it is…
So the HIA Awards were announced, and our "Ivy" display home in Lakelands Estate took out the award for the "Best Display Home under $190,000" – no surprises here, she's a beaut! And now its official, 'cause the HIA judges say so!
Look, we're in the business of building homes and we love delivering the dream of home ownership so it's great to celebrate these achievements. We also reckon it's important that our displays are affordable and that we're a trusted builder with quality finishes – so this really cements what we stand for at Homebuyers Centre (yep, the cement part was a pun… sorry about that).
Ok we're nearly done with the humble brag, just thought we'd finish off with some more #proudmoments. We also placed as a finalist in every category that we entered (two out of the three finalists in the affordability category)… no small feat considering the amount of entries in each category! A little refresher for those of you playing at home: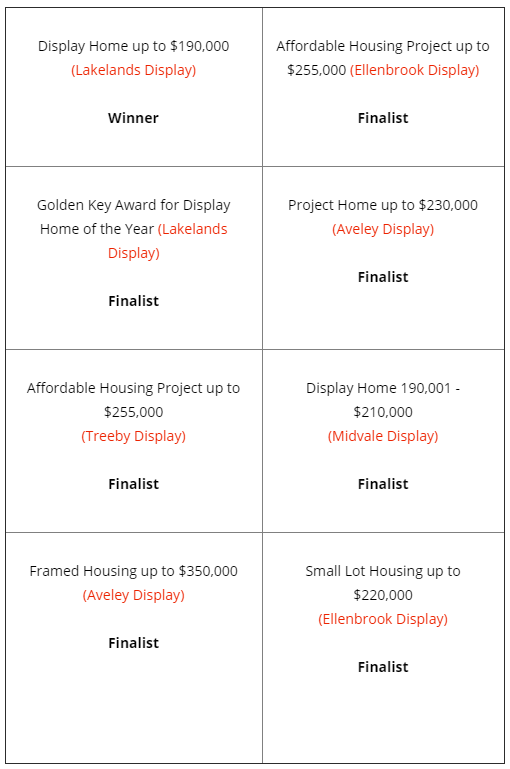 When you get recognised that much, you gotta have a little brag. That's a lot of times for our name to be up on the big screen! We're proud, let us have a moment.
Make sure to come view any of our award nominated homes for yourself. Want a tour of our award-winning Ivy display home? All the details can be found here.
Our Display Homes are open Saturdays and Sundays 12pm – 5pm and Mondays and Wednesdays 2pm – 5pm. Some of our homes however are open by appointment only – please check each page to see this information and call us on 131 751 to book an appointment to view.